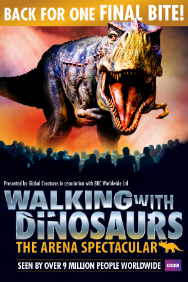 Walking with Dinosaurs: Wembley
SSE Arena Wembley
お値段 5965 ¥
Walking with Dinosaurs the Arena Spectacular is back in London at Wembley after 65 million years. Don't miss out on this amazing theatrical show with 20 life-size dinosaurs. Be amazed and thrilled as the greatest creatures ever to walk the earth return before your eyes!

Highlights:
- Enjoy Walking with Dinosaurs live at Wembley
- See the amazing 20 life-size dinosaurs
- Experience the widely popular show - seen by 7 mio.
- Choose your own seats

Travel 65 million years back in time
After a worldwide tour seen by over 7 million people in 206 cities, the stunning theatrical event Waliking with Dinosaurs at The Arena is back! Internationally renowned designers have worked with scientists to create 20 life-size dinosaurs, including the terror of the ancient terrain, Tyrannosaurus rex.

It's a dazzling $10,000,000 arena spectacle of unprecedented size and quality set to captivate young and old alike. Marvel at the story of their 200-million-year domination of life on earth. Watch them walk and hear their roar.

Be there as they fight for survival and supremacy. From the ripple of their skin to the glint in their eye, you will know the dinosaurs really are back!

How do I get my tickets?
Shortly after your booking is complete, you will receive an e-ticket by email. Please print out your ticket and bring it with you to the theatre.
会場情報
ショー上演
夕方
7pm
マチネー
11am, 3pm
から予約
2018-12-27
までに予約
2018-12-30
経過時間:

方向

(10 mins) Follow directions for Wembley Arena from the station.

地図を見る