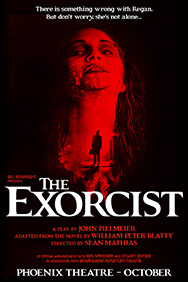 The Exorcist
Phoenix Theatre
お値段 1900 ¥
Winner of two Academy Awards, and widely considered the scariest movie of all time, the film adaptation of The Exorcist sparked unprecedented worldwide controversy when it was released in cinemas in 1973.

Highlights:
- Experience the Exorcist live on stage
- Enjoy the uniquely theatrical play
- Choose your category and seats

"I'm telling you that 'thing' upstairs isn't my daughter…"
46 years after William Peter Blatty's best-selling novel terrified an entire generation, The Exorcist is unleashed onto the stange in London's West End for the very first time in a uniquely theatrical experience.

The Excorist is directed by award-winning film and theatre Director Sean Mathias (Bent, No Man's Land) and the voice of the demon will be Olivier Award-winner Ian McKellen.

When multiple medical professionals fail to provide answers to young Regan's strange symptoms, her desperate mother Chris turns to a local priest for help. But, before Father Damien can tackle what's before him, he must overcome his own shaken beliefs, as this fight is for more than just one girl's soul… Inspired by true events.

How do I get my tickets?
Shortly after your order is complete, you will receive an e-ticket to the email address entered at time of booking. Please print out your ticket and bring it with you to the theater.
会場情報
ショー上演
から予約
2018-03-09
までに予約
2018-03-10
経過時間:

方向

Leicester Square Station - Piccadilly/Northern Line

地図を見る